---
---
[HIGHLY REQUESTED ITEM]
【Packing List】1xStudio Tent; 1x Carry Bag; 10xCorner Pieces(2 for reserved); 2xLED Light Panel; 1xPower Supply; 12x Frame Tube; 3xBackdrop( white/black/orange ); 1xSoft Background(white)
【Brighter And More Uniform】The photography light box is composed of the reflective fabric that has professional particulate silver film inside. The light lines emitted by the light beads are more evenly distributed in each corner of the photo studio under the effect of the reflective inner wall, so that the shed is brighter and the light is more uniform and avoid vignette. Aluminum shell light plate has good heat dissipation and the service life is 50000H.
【High-Quality Images】Brightness Dimmer and No Stroboscopic Photo Studio Box: Brightness dimmer allows you to control the light effect better. No strobe, allowing you to take high-quality images in different backgrounds with iPhone, smart phones, cameras. It is suitable for small and medium-sized goods and partial close-up of goods, such as Jewelry, watches, glasses, thermos, shoes, etc, which is the favorite of novices and traders.
【Convenient Carrying】Black carrying case for all foldable design accessories, easy to carrying outside with different using occasions. The paper boards are wrinkle resistant and water resistant.
 Customer Questions/Answers
Question: Is it possible to open the front completely? Or it only opens as picture show above
Answer: Yes, you can undo the velcro on the three sides to lower the whole front.
Question: Does the box come with a lightbulb? Is it hard to install!?
Answer: There are LED light bars (2) and you attach clips to the ends and those clips attach to the frame poles. You can move the lights to wherever you want them.
Question: Are the led lights adjustable? And Is it possible to shoot with the tent on its side? So the lights are facing the products from the front rather than
Answer: Yes, this led lights of photo studio are adjustable according to your needs. You can put it in front, above, ect. Can face the product that you want shoot with the tent on its side.
Question: How is the light distribution while taking photo? Can i use this for professional photography?
Answer: Light distribution is great! And yes, definitely can be used for professional photography.
Question: How is the brightness? And would I be able to take pictures of products like shoes, collectibles etc. from different angles with an iPhone?
Answer: Brightness is adjustable, I use my iPhone to take photos of items I sell online. You may need to edit/ adjust before inserting into listing, I only have to edit occasionally. This is a great little box
Question: What's the quality of backdrops? Are they pvc? Thanks
Answer: Yes it is PVC. Backdrops of this light box are pretty good quality. They are a type of plastic. Able to wipe them down when they get dirty.
Question: Does this work for product advertisement, such as jewelry ?
Answer: It would work very well. It is easy to set up and perfect lighting to take photos for selling or showcasing your products.
---
Customer Reviews
01/10/2021
Carie A.

United States
Tabletop photo box
It was a gift for my husband and he loves it.
01/09/2021
Sarah H.

United States
LED lightbox
The lightbox was a Christmas gift for my boyfriend. It worked perfect for his photography projects! It also got shipped and arrived super fast.
12/16/2020
Joseph F.

United States
Great gift idea
Very fun gift for anyone who uses instagram or has an etsy/ebay store!
12/13/2020
Barbara D.

United States
QUICK, EASY, AND EFFECTIVE
I am definitely NOT a technology type of person and details are also NOT my forte, but I was pleasantly surprised with my experience of putting the LED Lightbox together and using it to take photos of my 30 entries into a local art show. The box was easy to set up and take down again and, for me, I was very pleased that I could do it without struggling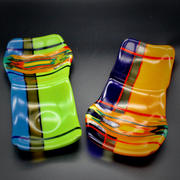 11/28/2020
Brian S.

United States
Nice product.
Worried it'd be complicated to set up, but it's not bad. The case is great.